Dan Potts on the road to recovery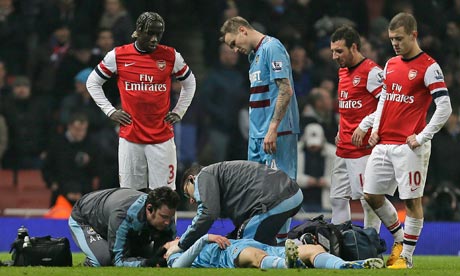 < West Ham's Daniel Potts receives treatment during the Premier League match against Arsenal at the Emirates. (Photograph: and article from The Guardian)
The West Ham defender Daniel Potts has thanked well-wishers for their support after leaving hospital following his head injury scare.
The teenager returned home on Thursday after the blow he suffered in his side's 5-1 defeat at Arsenal on Wednesday night.
Potts replaced Jack Collison just after the hour mark at the Emirates Stadium but sustained concussion from a heavy fall after an accidental aerial collision with Bacary Sagna.
The 18-year-old spent Wednesday night in hospital and underwent further scans and tests on Thursday, which West Ham announced had brought positive results.
Potts will undergo a period of rest before being allowed to resume light training in the gym.
He told West Ham's website: "A big thank you to everyone for their support and messages. Hopefully I am looking to feeling better over the next few days."
West Ham stated: "The club would also like to thank the London Ambulance Service, the on-site pitch rescue team and everyone at Arsenal who helped in making sure Potts was taken to hospital as quickly as possible."
Fifa's president, Sepp Blatter, had earlier expressed his backing for Potts, writing on Twitter: "Best wishes & quick recovery to @DanPotts03. Concussion in football is a big issue that Fifa is taking very seriously."